255nm, UV sensor, UV 254, UVC sensor
1. Features:
▪ AlGaN based flip chip UV 254nm UV sensor
▪ High power and efficiency
▪ Long life
▪ RoHS compliant
2. Application program:
▪ Water quality detection
▪ Atmospheric Exploration
▪ Ocean exploration
▪ Ozone detection
ROOTIN Ball Lens (BL) UVC LEDs emit ultraviolet light in a relatively narrow wavelength and angular range. These LEDs are for optical sensors in air, water, and surface applications.
Peak wavelengths in 5 nm increments, from 250 nm to 260 nm
Up to 5mW optical power output @ 100mA
Center wavelength tolerance <±5 nm
60° viewing angle
3. Dimensions: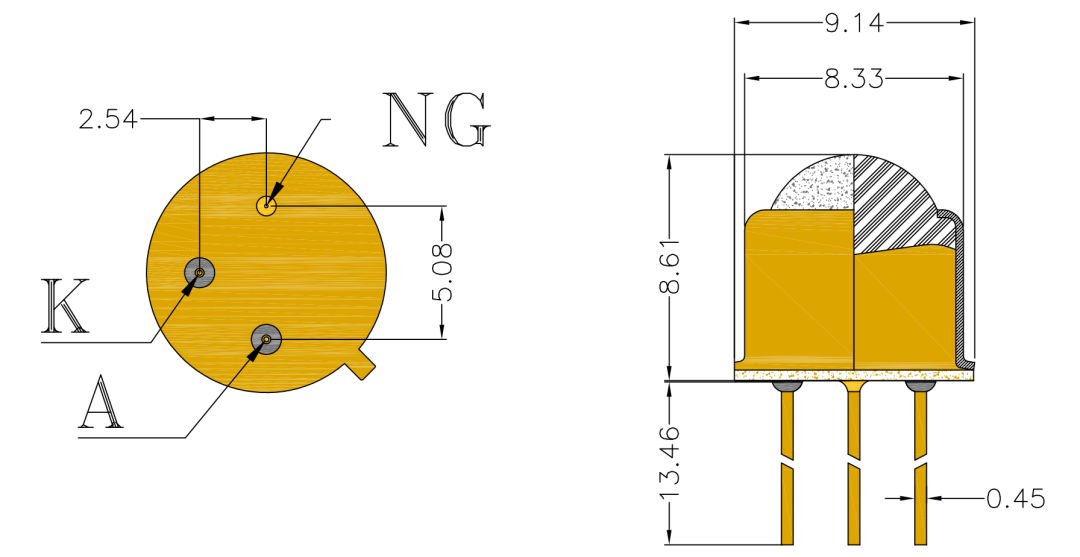 HK-TO39-Z3 Series,Deep UVC LED
Providing a more environmentally friendly alternative to traditional Xenon flash or Deuterium lamps.
UV-CHIPS TO-39 hermetically sealed package is a powerful deep UVC LED with a peak wavelength of 255nm, making it effective for water quality detection of COD (chemical oxygen demand) and TOC (total organic carbon), as well as gas detection for Ozone (O3) and medical analyzers.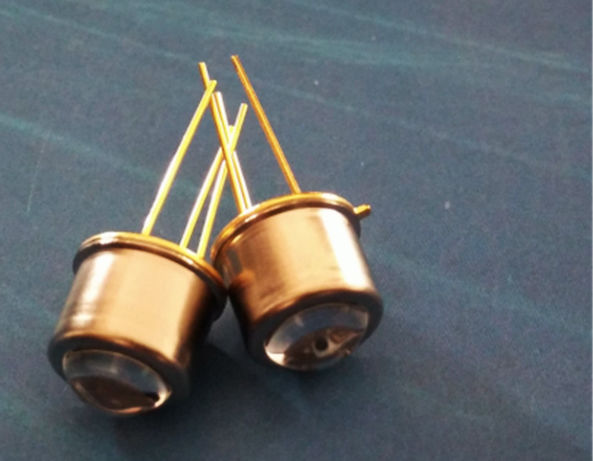 Wavelength :255nm,Package type:TO-39,High irradiance intensity up to 3.15mW/Sr,Hermetic seal
Dimension drawing of HK255S39CL-100 model: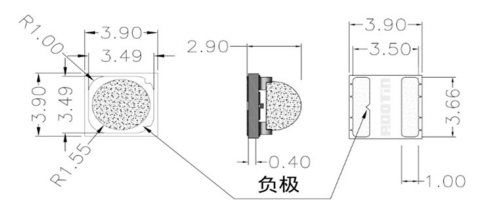 Dimension drawing of HK255S39CL-150 model: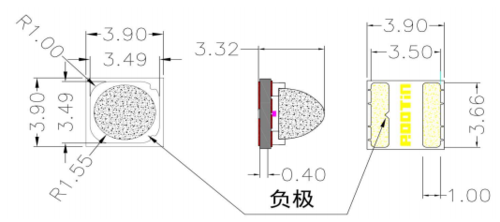 4. Photoelectric characteristics (IF = 20 mA, Ta = 25 ℃)
HK255S39CL-100
| | | | | | |
| --- | --- | --- | --- | --- | --- |
| Parameters | Symbol | Unit | Min. | Aug. | Max. |
| Peak Wavelength | λP | nm | 254 | 255 | 259 |
| FWHM | Wh | nm | - | 10 | - |
| Radiant flux | PO | mW | 12.0 | 13.3 | 12.0 |
| Forward Voltage | VF | V | 5.0 | 5.9 | 6.5 |
| Viewing Angle | 2θ1/2 | ° | - | 60 | - |
HK255S39CL-150
| | | | | | |
| --- | --- | --- | --- | --- | --- |
| Parameters | Symbol | Unit | Min. | Aug. | Max. |
| Peak Wavelength | λP | nm | 254.0 | 255 | 259 |
| FWHM | Wh | nm | - | 10 | - |
| Radiant flux | PO | mW | 18.0 | 20.0 | 22.0 |
| Forward Voltage | VF | V | 5.5 | 5.9 | 6.5 |
| Viewing Angle | 2θ1/2 | ° | - | 30 | - |
5.Absolute maximum rating(Ta = 25 ℃)
HK255S39CL-100
| | | | |
| --- | --- | --- | --- |
| parameter | Symbol | Grade | Unit |
| Forward current | IF | 100 | mA |
| Junction temperature | Tj | 85 | ℃ |
| working temperature | Topr | -30~60 | ℃ |
| Storage temperature | Tstg | -40~100 | ℃ |
HK255S39CL-150
| | | | |
| --- | --- | --- | --- |
| parameter | Symbol | Grade | Unit |
| Forward current | IF | 150 | mA |
| Junction temperature | Tj | 85 | ℃ |
| working temperature | Topr | -30~60 | ℃ |
| Storage temperature | Tstg | -40~100 | ℃ |
6. Characteristic curve (Ta = 25 ℃)
Forward voltage and current
Forward current and relative radiation flux




Forward voltage[V]







Forward current[mA]

Spectrum, IF = 20 mA
Forward current and peak wavelength

Wavelength [nm]

Forward current [mA]

Directional
Ambient temperature and forward voltage offset




Relative strength(%)




Ambient temperature [℃]