255nm, UV sensor, UV 254, UVC sensor
1. Features:
▪ AlGaN based flip chip UV 254nm UV sensor
▪ High power and efficiency
▪ Long life
▪ RoHS compliant
2. Application program:
▪ Water quality detection
▪ Atmospheric Exploration
▪ Ocean exploration
▪ Ozone detection
ROOTIN Ball Lens (BL) UVC LEDs emit ultraviolet light in a relatively narrow wavelength and angular range. These LEDs are for optical sensors in air, water, and surface applications.
Peak wavelengths in 5 nm increments, from 250 nm to 260 nm
Up to 5mW optical power output @ 100mA
Center wavelength tolerance <±5 nm
60° viewing angle
3. Dimensions:
Dimension drawing of HK255S39CL-100 model: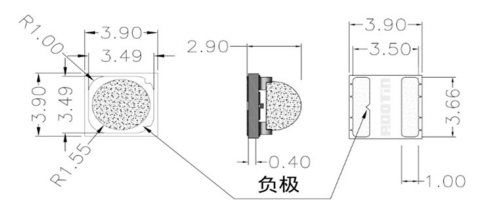 Dimension drawing of HK255S39CL-150 model: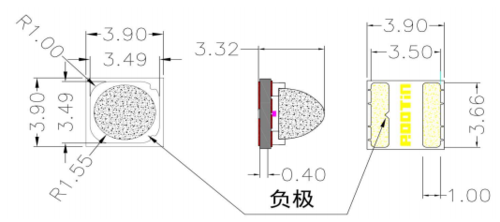 4. Photoelectric characteristics (IF = 20 mA, Ta = 25 ℃)
HK255S39CL-100
| | | | | | |
| --- | --- | --- | --- | --- | --- |
| Parameters | Symbol | Unit | Min. | Aug. | Max. |
| Peak Wavelength | λP | nm | 254 | 255 | 259 |
| FWHM | Wh | nm | - | 10 | - |
| Radiant flux | PO | mW | 12.0 | 13.3 | 12.0 |
| Forward Voltage | VF | V | 5.0 | 5.9 | 6.5 |
| Viewing Angle | 2θ1/2 | ° | - | 60 | - |
HK255S39CL-150
| | | | | | |
| --- | --- | --- | --- | --- | --- |
| Parameters | Symbol | Unit | Min. | Aug. | Max. |
| Peak Wavelength | λP | nm | 254.0 | 255 | 259 |
| FWHM | Wh | nm | - | 10 | - |
| Radiant flux | PO | mW | 18.0 | 20.0 | 22.0 |
| Forward Voltage | VF | V | 5.5 | 5.9 | 6.5 |
| Viewing Angle | 2θ1/2 | ° | - | 30 | - |
5.Absolute maximum rating(Ta = 25 ℃)
HK255S39CL-100
| | | | |
| --- | --- | --- | --- |
| parameter | Symbol | Grade | Unit |
| Forward current | IF | 100 | mA |
| Junction temperature | Tj | 85 | ℃ |
| working temperature | Topr | -30~60 | ℃ |
| Storage temperature | Tstg | -40~100 | ℃ |
HK255S39CL-150
| | | | |
| --- | --- | --- | --- |
| parameter | Symbol | Grade | Unit |
| Forward current | IF | 150 | mA |
| Junction temperature | Tj | 85 | ℃ |
| working temperature | Topr | -30~60 | ℃ |
| Storage temperature | Tstg | -40~100 | ℃ |
6. Characteristic curve (Ta = 25 ℃)
Forward voltage and current
Forward current and relative radiation flux




Forward voltage[V]







Forward current[mA]

Spectrum, IF = 20 mA
Forward current and peak wavelength

Wavelength [nm]

Forward current [mA]

Directional
Ambient temperature and forward voltage offset




Relative strength(%)




Ambient temperature [℃]